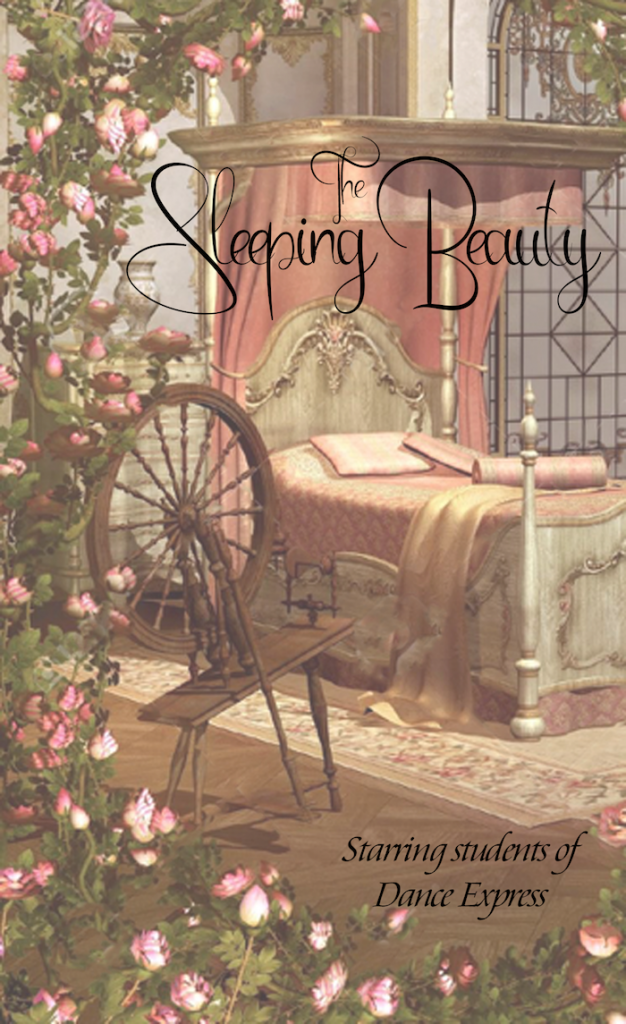 PROLOGUE- The Christening
Fairies and courtiers are invited to the palace to celebrate the birth of Princess Aurora. After the fairies present their gifts, the fairy Carabosse, who was not invited arrives and curses the baby.
Opening Dance:
Courtiers: Level 2
Fairy Corps: Level 4 and some of Level 3
Fairy Soloists

Fairy Solo Dances:
Fairy of the Crystal Fountain
Fairy of the Enchanted Forest
Songbird Fairy
Fairy of the Woodland Glade
Fairy of the Briar Rose
Lilac Fairy

Carabosse

The Lilac Fairy intervenes

– End of Prologue
ACT 1- Aurora's Sixteenth Birthday

Aurora's Friends dance with flower garlands at the castle. Then Aurora and her mother and the Courtiers arrive for her Birthday Party along with guests. Aurora receives a cursed spindle as a gift and while dancing with it, pricks her finger and collapses. She is placed on a bed and the entire court falls asleep for a hundred years along with her.
Garland Dance: Level 3

Aurora's Solo
Level 2 dancers and Queen arrive with Aurora to the party and watch her and other guests dance

Blue Bird Princesses- Haven & Emma

Jewels- pointe dance

Waltz- Level 2 and Aurora

Spindle Dance- Aurora

-End of Act 1-
ACT 2- 100 Years Later
A forest has grown up around the castle. The fairies are dancing in the forest when a Prince comes upon them. They tell him of the sleeping Princess and he hacks his way through the forest to the castle where he finds everyone asleep and he kisses the Princess and breaks the curse.
Fairy Quartet- Emersyn, Morgan, Tori and Katie

Forest Fairies- Level 1

Arrival of the Prince

-End of Act 2-
ACT 3- The Wedding

Courtiers (Level 2), Fairy Corps (Level 4 and some 3), Fairy Soloists, Blue Birds, and Pointe dancers take part in wedding march
Garland Dancers (Level 3) Hold flower hoops for procession of the Wedding party
Ring Bearer & Flower Girls- Level 1 come through hoops, followed by Queen, Prince, Aurora and Lilac Fairy
The Prince and Princess are married and all go to final pose

-End of Act 3-
BOWS
Level 1
Level 2
Garland Dancers
Corps
Fairy Quartet & Blue Bird
Pointe
Lilac and Carabosse
Prince and Aurora