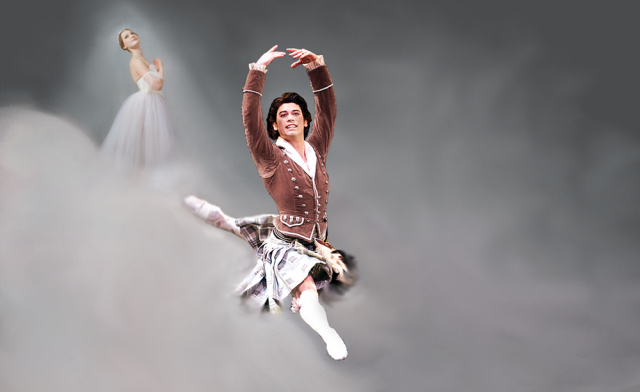 by Rachel Wunder
One of the world's oldest existing romantic ballets, La Sylphide originally premiered on March 12, 1832 in Paris, with now lost choreography by Filippo Taglioni. A success, the ballet was re-choreographed in 1836 by the Danish ballet master August Bournonville. Bournonville had planned on reviving Taglioni's version but because the Paris Opera's price for the original score by Schneitzhoeffer, Bournonville made his own production, based off of the original story but with a new score. Since the premiere in November of 1836, the Bournonville version of La Sylphide has been one of the Royal Danish Ballet's most illustrious works.
---
A Brief Plot Synopsis
As was the style of romantic ballets during the era, the stories brought remote or "exotic" locations to their audiences – Scotland being one of them during this time, which is where the story of La Sylphide begins. James Ruben, a Scotsman, is sleeping in a chair by the fire in the hall of a Scottish farmhouse, when he is awakened by a forest fairy, or sylph who has been watching him lovingly and dancing around him. James questions his friend Gurn about it, but Gurn reminds James of his approaching marriage to Effie, James' fiancée. Effie arrives with her mother and bridesmaids and as everyone socializes, James is distracted with thinking of the Sylph. The old witch, Madge, who has somehow slipped in and is warming her hands by the fire, is discovered and Effie and all of her friends beg James to let them have their fortunes told. When Madge tells Effie that James loves someone else and she will be married to another, James is enraged. He throws Madge out, and the festivities continue. While briefly alone, James encounters the Sylph who comes to him and professes her love for him, weeping and mourning his impending marriage to Effie, letting him know that she has been with him and has watched him since he was a child. James, though initially resistant to her, is mesmerized and enthralled with her otherworldly beauty. When the others return, they begin to dance, but James is preoccupied with glimpses of the Sylph, until finally he leaves the party in pursuit of her, leaving behind his brokenhearted fiancée.
The second act begins with the Witch Madge working over a pot of some sort of vile potion in the forest. She and her fellow witches proceed to execute a ritual which involves the casting of a spell over a scarf. Meanwhile, the Sylph brings James to her bower, giving to him all she has and caring for him in her little part of the forest. She calls her fellow sylphs and together these ethereal spirits and James dance joyfully together in the forest. During this time Gurn, searching for James, finds his hat but is told by Madge to say nothing. Effie, who is also searching for her fiancé, comes upon them there in the forest. By Madge's manipulative designs on Gurn, Effie accepts his marriage proposal, and they leave together. James, upon entering the same area shortly thereafter encounters Madge once again, who persuades him to take the scarf by way of a gift to the Sylph. When he eventually does present the scarf to the Sylph, wrapping it around her, her wings fall off; she loses her sight, and then dies in his arms. Her sister sylphs sorrowfully carry her off and James is left in grief. As he stands there realizing his loss, he sees Effie and Gurn who have just been married and their wedding party processing in the distance. The realization that he is an outsider with nothing, forgotten and alone, washes over him. But Madge who has come upon him, forces him up to watch the Sylph ascend to the heavens, crushing his spirit completely. James dies, and the curtain closes on Madge laughing over his corpse. Madge has triumphed over what she set out to destroy. James had both Effie and the Sylph, but in the end, nothing. In pursuing the Sylph, something he could never attain, James lost everything, even his life.
Romanticism and its effects on Ballet
La Sylphide is one of the world's oldest surviving romantic ballets – but what exactly does the term "romantic ballet" mean? When was this period and how did it affect the ballet world? During the Romantic era, the ideas and principles of Romanticism from literature and art affected and influenced the creation of ballets in a period which is thought to have begun with the performance of Marie Taglioni in the ballet La Sylphide in Paris, 1827.
The Romantic Era and Movement
Romanticism, or the Romantic era/period was an artistic, literary, and intellectual movement beginning in Europe at the end of the 18th century. Partly in response to the Industrial Revolution and partially in rebellion against the Age of Enlightenment and scientific rationalization of nature, the romantic era was most greatly evident in visual arts as well as music and literature, though it also had an effect in other areas of study. This new movement placed emphasis on emotions as a source of artistic understanding and experience, as well as an interest in the significance of a connection with nature. "Romanticism elevated the achievements of what it perceived as heroic individualists and artists, whose pioneering examples would elevate society." Individual imagination became a "critical authority" which "permitted freedom from classical notions of form in art. According to the German painter Caspar David Friedrich, "the artist's feeling is his law", and to William Wordsworth, poetry should be "the spontaneous overflow of powerful feelings". A core part of Romanticism was the idea of "romantic originality", or the artist being able to make his own work by "creation from nothingness" and without influence from others, in the general search for untamed, pure nature and a return to a revitalized medievalism, escaping through one's imagination the spread and progress of industrialism.
Quoting Isaiah Berlin, Romanticism personified "a new and restless spirit, seeking violently to burst through old and cramping forms, and nervous preoccupations with perpetually changing inner states of consciousness, a longing for the unbounded and the indefinable, for perpetual movement and change, an effort to return to the forgotten sources of life, a passionate effort at self-assertion, both individual and collective, a search after means of expressing an unappeasable yearning for unattainable goals."
Romantic Ballet as an Era in Ballet
Many ballets of the Romantic period centered on conflict between man and nature/supernatural, and bringing exotic/far away lands into ballets. In the romantic era, the focus was on the ballerina whereas previously it had been on male dancers. The development of pointe work, though much unlike what we know today, greatly transformed how the ballerina was viewed. She became the ideal of weightlessness, floating on the tips of her toes. Showcased especially in ballets La Sylphide and Giselle. Another aspect of the romantic era was the fact that music was specially written for the ballet and that multiple artists were involved in the creation of the ballet – such as the choreographer, author, and scenarist. The invention of gas lighting instead of the previously used candlelight gave the atmosphere of the ballet a "softer gleam" and more "mysteriousness". The use of illusions such as wires and trap doors began to be commonly used, adding to the sense of a previously unexplored atmosphere of the ballet.
Lithograph by Chalon of Carlotta
Grisi (left), Marie Taglioni (center),
Lucille Grahn (right back), and
Fanny Cerrito (right front) in the
Perrot/Pugni Pas de Quatre. London,
1845. The premiere of the Pas de
Quatre is considered to be the
Romantic ballet at its zenith.
With the arrival of the Romantic Era also came the ascent of the ballerina as a core part of ballet, whereas before it has been the male dancers who had been a predominant part of ballet. Some of the great Romantic ballerinas of the period were Marie Taglioni, Carlotta Grisi, (the first Giselle) Lucille Grahn, Fanny Cerrito, and Fanny Elssler.
The movement style was also affected, with soft, rounded arms, a forward tilt in the upper body, and more complicated leg movements due to rising standards for ballet technique. The Romantic ballerina's costume was the romantic tutu, a white, layered skirt made of tulle, shortened from the original length (which Filippo Taglioni, father to Marie, approved of because he wanted his daughter's pointe work to be seen).
Many ballet plots of the Romantic Era involved ghosts, wilis, and sylphs – female spirits or ethereal beings, quite often "enslaving hearts and senses of mortal men" making it "impossible for them to live happily in the real world". In second act of romantic ballets the corps de ballet would enter in romantic tutus making "ballet blanc" and "white act" a common expression. There was also a general sense of floating in these ballets in addition to the romantic tutus because of pointe shoes.
Notable ballets of the romantic period include such works as La Sylphide (1832, Giselle, (1841) La Vivandiere, (1844) La Esmeralda, (1844) Pas de Quatre, (ballet-divertissement – 1845) Paquita, (1846) and Le Corsaire (1856). Notable choreographers were Jules Perrot, Filippo Taglioni, Marius Petipa, and Arthur Saint-Leon, to name a few. Composers of the period included Adolphe Adam, (Giselle, Le Corsaire, and the Christmas hymn, O Holy Night) and one of the most prolific composers of ballet music, Cesare Pugni (to name a few well-known ballets: La Esmeralda, Pas de Six from La Vivandière -also known as Markitenka, Pas de Quatre, La Carnival de Venise pas de deux -also known as Satanella pas de deux, The Little Humpbacked Horse, and additional music for Corsaire).
Effect of the Romantic Era on Music
Romantic music, a style of Western Classical music from the early 19th century, is part of the artistic and literary movement of Romanticism. Both in its time and by today's listeners it is considered to be more animated and passionate. As the new composers became more expressive and not so reliant on following a particular style, "it became easier to identify an artist based on his work or style". Involved in this time of romantic musical composition were influential composers such as Ludwig Van Beethoven. This movement of romanticism which was in reaction to the French Revolution and its ideas was in turn affected musically, bringing improvements for instruments of the orchestra, especially brass instruments and woodwinds. With these significant advancements the instruments were more dependable and had a better, fuller sound. From Beethoven's time on orchestras grew bigger and more proficient.
Accessibility of Music
In earlier times composers had relied on the benefaction of the aristocracy and had small audiences who were of the upper class and understood music or had musical education. The romantic composers of the time, however, such as Edward Elgar, thought that there should be "no segregation of musical tastes" and that the "purpose was to write music that was to be heard", and so composed for large paying audiences, frequently at public concerts, festivals, and the like. Of course this mindset was liberating for the composition of the many ballets composed during the era of romanticism.
Romantic Literature
The literature which so greatly influenced society in the imitation of the ideal of spontaneity often presented had such authors as Edgar Allan Poe, Nathaniel Hawthorne, Washington Irving, (North America) E.T.A Hoffman, (Germany) Pushkin, (Russia) and William Wordsworth, John Keats, Lord Byron and Sir Walter Scott (England). Though development of romanticism in France, affected by the Napoleonic wars, was slightly later in comparison to the rest of Europe, Parisian theatre began to develop and author Victor Hugo's Hunchback of Notre Dame would lead to the story of the ballet La Esmeralda (GKA's upcoming performance will include a short excerpt from this ballet – the "gypsies" dance!) among several other successful and long-enduring works. Just as there was a transition from male dancers being a central part of ballet to the rise of the ballerina, so also in literature was there an increase in female writers and readers. Though distanced from the principles of the romantic era, Jane Austen was the most significant female author of the time, alongside well-known fellow female writers the Bronte sisters Charlotte and Emily. In America, writers broke free of the rigid and strict religious traditions from the early settlement and began to blossom into a new American culture. Short stories, poems and novels emerged as romantic writers in the general theme of American-seeking freedom expressed themselves in thorough and meaningful works that reached wide audiences as books became affordable and accessible.
Romantic Visual Arts
Romanticism became visible by landscape painting – which had begun to appear in the 1760's and continued on in more "wilder" landscapes, storms, Gothic architecture, seascapes, and often thought provoking images or single figures integrated within a landscape to effect a certain feeling or meaning the artist wished to convey, often on the mystical side. Francisco Goya is considered to be the greatest painter of the Romantic period – "the last painter in whose art thought and observation were balanced and combined to form a faultless unity", presenting his artist expression, imaginative feelings, and a "free handling of paint".
Effects of Romanticism on Ballet
The pervasive and passionate movement of the Romantic Era greatly affected all aspects of society in Europe and as well as other countries around the globe during the peak period of 1780 to 1845, giving rise to so many works in music, literature, art, and countless ballets, many of which are treasured today and many which are still unknown to most of us. So much changed in such a relatively short period of time to give us what we have today in the ballet world – powerful stories, beautiful, compelling, expressive music and choreography that tells the story carefully crafted by the creators and innovators of these great ballets of the romantic period. Had it not been for the dedicated progression of these true artists, willing, eager, and passionate to advance in their way of thinking and presentation of their art form we would not have the treasures we cherish today – musically and choreographically – or the development of the technique of romantic and classical ballet.