CLASSES OFFERED:
Attire for Jazz, Tap and Contemporary Classes: Students should wear their ballet leotard in the color of their ballet level, or a black leotard if they are not taking ballet. Black jazz pants or shorts are optional. Tights may be pink or tan. If taking contemporary, tights should be convertible or footless.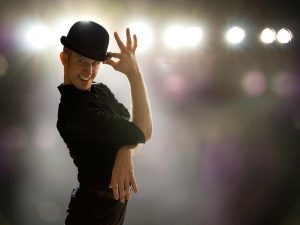 Jazz Dance
Jazz dancing is a common form of dance used in musical theater and commercial and entertainment industries, with its roots in social dance and African-American dance. The performance style of jazz dance was popularized to a large extent by Bob Fosse's work, which is exemplified by Broadway shows such as Chicago and Cabaret. Modern jazz dance continues to be an important element of musical theatre, and it can often be seen in music videos and competitive dance. To excel in jazz, dancers need a strong foundation in classical ballet. Classes in Jazz are offered for ages 5 through adult.
Ages 5-7: Jazz/Tap combo class, 60 minutes.
Ages 8-11: Children's Jazz class, 60 minutes
Ages 12-18: Teen Jazz class, 60 minutes
Ages 12-18: Lyrical Jazz class, 60 minutes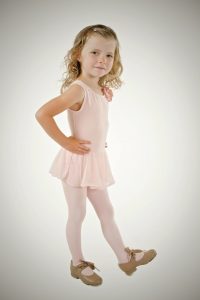 Tap Dance

Tap dance is a form of dance characterized by using the sound of one's tap shoes hitting the floor as a percussive instrument. The sound is made by shoes with a metal tap on the heel and toe. Two major variations on tap dance exist: rhythm (Jazz) tap and Broadway tap. Broadway tap focuses more on the dance, and is widely performed as a part of musical theater. Rhythm tap focuses more on musicality, and practitioners consider themselves to be a part of the Jazz tradition. Classes in Tap are offered for ages 5 through adult.
Ages 5-7: Jazz/Tap Combo class, 60 minutes.
Ages 8-11: Children's Tap class, 60 minutes.
Ages 12-18: Teen Tap class, 60 minutes.
Contemporary or Modern Dance
Contemporary Dance is a dance genre that developed during the mid twentieth century and has since grown to become one of the dominant genres for formally trained dancers throughout the world.  In terms of the focus of its technique, contemporary dance tends to combine the strong and controlled legwork of ballet with modern dance's stress on the torso, and also employs contract-release,floor work, fall and recovery, and improvisation. Unpredictable changes in rhythm, speed, and direction are often used, as well.  
Ages 12 and up, 60 minutes.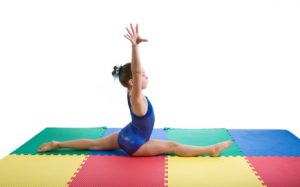 Acrobatics
Acro combines skills of both dance and gymnastics. In Students work on floor skills while learning routines and combinations and focus on fundamental acrobatic technique, such as front and back walkovers, chin stands, and hand balancing.